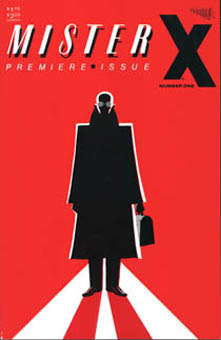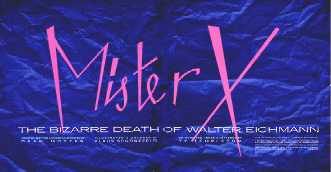 The 80's comic book sensation Mister X helped usher in a new era for the field along with Watchmen, Love & Rockets and Return of the Dark Knight. As creator, writer and designer of the series Dean brought his influences from the book and music businesses to the medium. The series boasted memorable covers by illustrators such as Howard Chaykin, Dave McKean, Mitch O'Connell, Paul Rivoche, Bill Sienkiewicz, Maurice Vellikoop and others.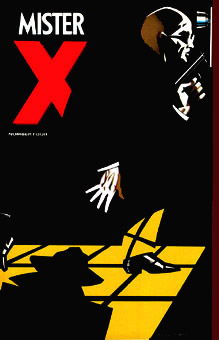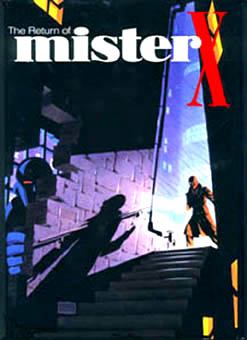 In 1988 DC Comics offered Motter the unique opportunity to write and illustrate the authorized comic book sequel to Patrick McGoohan's 60's cult television series, The Prisoner.
Dean took the story of Frankenstein and set against the backdrop of the New York art world in Vertigo's The Heart of the Beast. He adapted and illustrated Samuel Taylor Coleridge's The Rime of the Ancient Mariner for Classics Illustrated.
Motter's comic book illustration work has appeared in Fast Forward from Piranha Press, Vertigo's Hellblazer series as well as The Spirit Jam from Kitchen Sink, Grendel: Black, White & Red from Dark Horse and Moebius: Visions of Arzach from Tundra.
Dean revisited the world of 1999 as envisioned in 1939 in the highly acclaimed, retro-futuristic Terminal City and Aerial Grafitti series illustrated by MIchael Lark. The covers were provided by Mark Chiarello, Matt Wagner and of course, myself.
In 2001 Dean continued to explore vintage futurism and mystery with the pulp detective pastiche, Electropolis, The Infernal Machine. He wrote, illustrated and designed this four issue mini-series, with the help of colorist Chris Chuckry. It featured cameos by characters from both Mister X and Terminal City.
Taking the film noir genre a bit more seriously, Motter reunited with Terminal City illustrator Michael Lark to create a '30's version of the caped crusader in Batman: Nine Lives. This landscape format deluxe hardcover received accolades as well as the 2003 Eisner award for publication design.

In 2001 Motter contibuted a reminiscence of his lower Manhattan neighborhood in Before The Fall for Dark Horse Comics' 9-11: Artisits Respond benefit book. In 2003 he took on Batman once more in the Batman: Black and White short, The Gargoyles of Gotham, this time both writing and illustrating the story.

The Return of Mister X

After scripting stories for Dark Horse's popular Star Wars comics, the publisher signed Dean to reboot his most popular comic book creation. Mister X debuted in 2009's hard-boiled mystery comics anthology, Noir, with Motter handling both the the writing and illustration chores. This was followed by the release of two hardcover archives of the 1980's Vortex issues, an all-new series, Mister X: Condemned, followed by features in Dark Horse Presents and another series, Mister X: Eviction. Dark Horse also released new collections of both Terminal City and Electropolis. In 2013 Mister X celebrates 30 years in comics.

---
Home | ResumÈ | Bibliography | Bio | Contact | News
Album Covers | Book Design | Illustration | Electropolis